Folkestone Music in May Concert - Sunday, 28th May 2023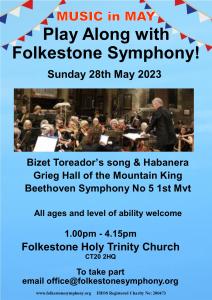 Folkestone Symphony Orchestra are proud to be taking part in Music in May!
Repertoire for the Open Workshop starting at 1 pm will be:-
Bizet - Carmen Suite No. 2 (Toreador's Song and Habanera)
Grieg - Hall of the Mountain King
Beethoven - Symphony No, 5, 1st Movement
Folkestone Symphony will then perform what has been covered in the workshop and possibly some pieces from their repertoire at 3.30 pm. 
Holy Trinity Church,
Sandgate Road,
Folkestone
CT20 2HQ