Do you Shop Online? If so, you can help raise funds for Folkestone Symphony by using the links below.
The reviewers for our concert on 11th November 2023, Brinley and Janet Hughes said "This was another splendid concert by Folkestone Symphony that continues to mature in strength and ability under the orchestral leadership of Floriane Peycelon and conductorship of Rupert Bond.  The customary large audience was a tribute to this very popular local orchestra showcasing the wealth of musical talent in the area.  Rupert Bond conducted with exemplary clarity and direction throughout."
"It was wonderful to hear Bruch's less well-known Scottish Fantasy, performed with such flair and sensitivity by Korean-born soloist Joo Yeon Sir.  The soloist was highly impressive with her lovely tone, and a beautiful singing quality in the slow sections which contrasted with her stunning virtuosity in the sparkling faster sections.  The audience seemed spellbound as she played her soaring final cadenza leading to the works exuberant ending.  The orchestra accompanied sympathetically, and the clever interweaving of Scottish tunes and interchanges between orchestra and soloist were well managed with a perfect balance."
Click here to read the full review.
Please see "Forthcoming Concerts" for a list of our planned concerts for the remainder of the 2023-24 Concert Season.
Online Tickets now available for Family Christmas Concert, 10th December 2023
Our Family Christmas Concert will take place on 10th December in Holy Trinity Church at 3 pm.  Online tickets are now on sale.  Please do not forget to bring either the PayPal receipt or the receipt that the website sends you to show at the door as proof of purchase.  The concert will be introduced by our President, Jan Leeming and will also include a performance by Folkestone Young Strings.  The programme will include Sleigh Ride by Delius, Excerpts from Swan Lake, a medley from the film 'Frozen', Christmas Carols and more.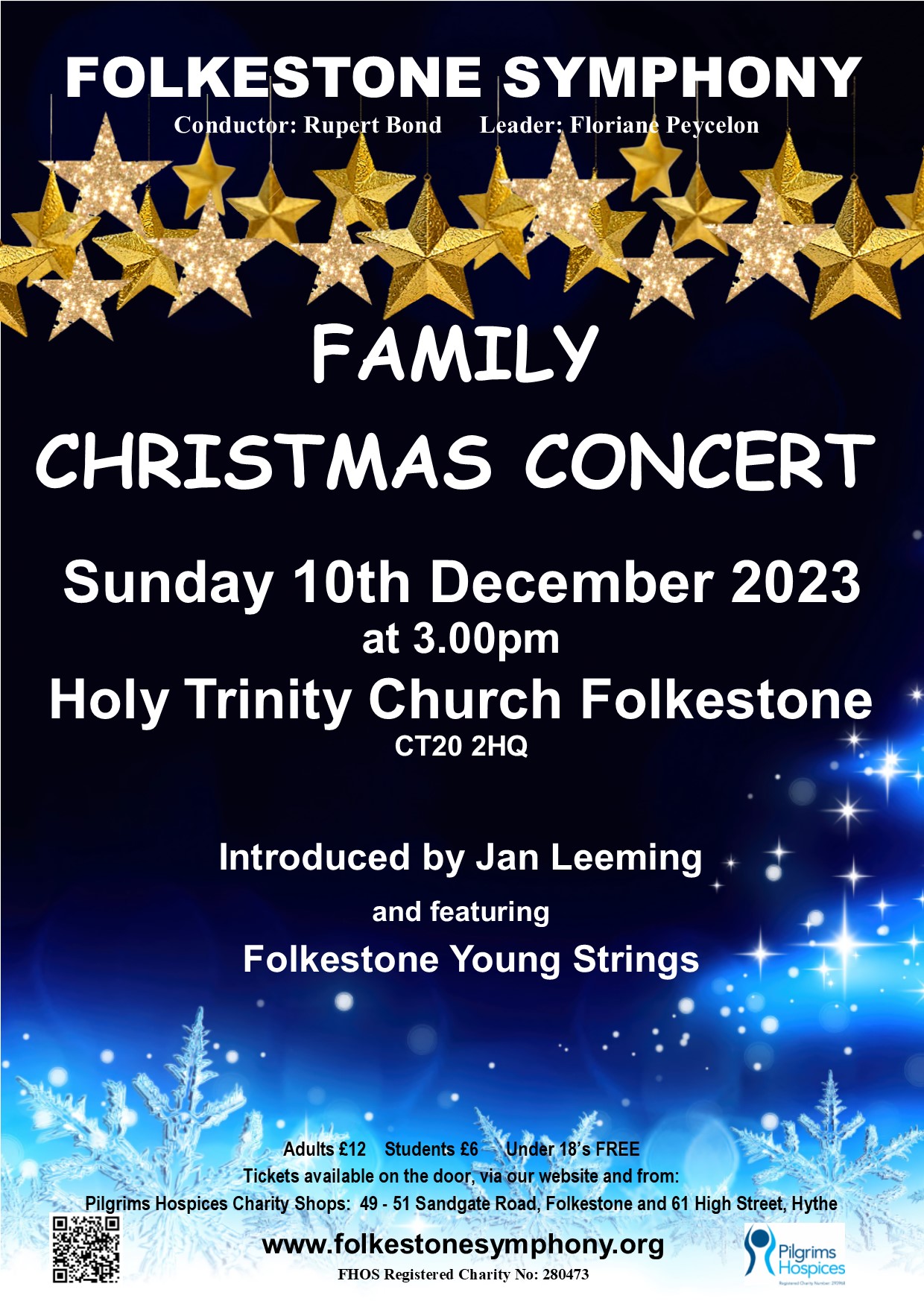 Car Parking for our Concerts at Holy Trinity Church, Folkestone
Please note that the Town Council have very kindly agreed to keep the Leas Cliff Hall Car Park (postcode CT20 2BY) open for us until 11 pm on the evenings of our concerts at Holy Trinity Church (11th November 2023, 2nd March 2024, 15th June 2024), as much of the street parking around the church (on the coastal side of Sandgate Road) is restricted to Residents Only.  The Leas Cliff Hall Car Park is free from 6 pm and is only a 7 minute walk from the church.  Alternatively, you may find some street parking in the side streets off Sandgate Road, on the Church side. 
Repertoire The footer of each page contains our current Repertoire. You can view and download a PDF copy by clicking on it below.