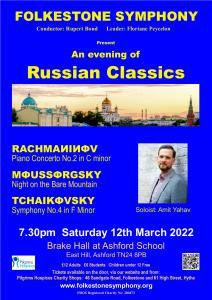 Mussorgsky - Night on the Bare Mountain
Rachmaninoff - Piano Concerto No. 2 in C minor 
Tchaikovsky - Symphony No. 4 in F minor
Brake Hall,
Ashford School,
East Hill,
Ashford
TN24 8PB

Review
Folkestone Symphony Orchestra conducted by Rupert Bond performed its Spring Concert of Russian Music in Brake Hall at Ashford School on Saturday 12 March 2022. In his written introductory note he commented that the programme of Russian classics had been chosen long before the current hostilities in Ukraine and recalled that German music was not banned in England during the Second World War. However, the concert began with a rousing performance of the Ukrainian national anthem whose poignant opening words are "Ukraine's glory has not yet died, nor her freedom", which were movingly reflected in the music.
This was believed to be the first occasion when the orchestra had performed in Brake Hall with its rather dry acoustic and somewhat cramped space for a large number of players, necessitating the woodwind and brass section with percussion behind to be on the stage and the strings at ground level. This arrangement favoured the brass, percussion and bass strings, while the sound from the second row of woodwind and the violins sometimes appeared underpowered. The clear and skilful direction of the conductor nevertheless achieved a satisfying sound balance much of the time.
The opening work, Mussorgsky's Night on a Bare Mountain, provided a good opportunity for the orchestra to demonstrate its cohesion and musicality in a dramatic and effective performance of this popular score (including sensitive chiming of a single tubular bell). Slight problems with brass tuning early in the performance were mostly solved.
Multi-award-winning pianist Amit Yahav, who has played on several occasions previously with Folkestone Symphony, gave a noble yet unflamboyant performance on the School's resonant (albeit slightly harsh-toned) Steinway Model D grand piano as the soloist in Rachmaninov's Piano Concerto No 2 in C minor, Opus 18. Equally skilled in virtuosic piano solos and the gentle accompanying of orchestral solos, he was well partnered by the large Romantic orchestra with a keen pulsing rhythm, warm and expressive string playing in the second movement, exciting climaxes and a dramatic ending. As a contrasting encore, he delighted the audience with his gentle, lilting playing of Prelude in B minor (based on Bach's BWV 855) by Alexander Siloti, who was born in Kharkiv, Ukraine (then Imperial Russia) in 1863, became a virtuoso pianist and taught at the Moscow Conservatory where one of his students happened to be his first cousin, Sergei Rachmaninov.
The concluding item in the concert was Tchaikovsky's Symphony No 4 in F minor, Opus 88 with its strident fanfare 'Fate' motif introduced in its opening bars and recurring many times during this powerful and challenging work that was well suited to a large orchestra and featured some fine instrumental solos, notably from the woodwind section. The pizzicato strings in the Scherzo were impressively precise and effective. The rousing climax to the work was a 'barely controlled frenzy' that was greeted with enthusiastic and well-deserved applause from the sizeable audience. This was another splendid concert by the Folkestone Symphony Orchestra that goes from strength to strength under its inestimable leader Floriane Peycelon and the consummate direction of Rupert Bond, bringing pride to the local musical community.
A final mention must go to Michael Lewis for his comprehensive and informative programme notes, which were a pleasure to read and brought added enlightenment to the evening's performance.
Brin Hughes