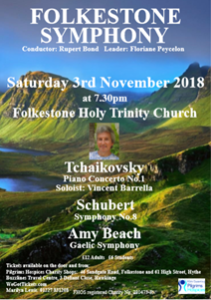 Tchaikovsky - Piano Concerto No. 1 (Soloist: Vincent Barrella)
Schubert - Symphony No. 8
Amy Beach - Gaelic Symphony
Holy Trinity Church
Sandgate Rd
Folkestone
CT20 2HQ  
Folkestone's Holy Trinity Church was reasonably full for this performance of several large Romantic works – the first movement of Schubert's Unfinished, Tchaikovsky's Piano Concerto, then the Gaelic Symphony by a less familiar female composer, Amy Beach.
The Schubert felt rather tentative at first, with a few intonation wobbles and rhythmical uncertainties, but soon settled down, with luscious tunes soaring forth from the celli. The environment presented a few challenges – the 'hard surfaces' in churches do help reflect sound, but the middle strings were sometimes swamped by the wind and brass. Overall, however, very competent.
The soloist in the Tchaikovsky, Vincent Barrella, made light work of the virtuoso passages, although the acoustics again resulted in the sound sometimes blending in too much, with a rather mushy outcome. Quieter parts worked beautifully, with his clear accents punctuated by pizzicato from the strings, and good contrast between strings, brass and the pianist. The woodwind had several small duets or solo parts, performed with great skill, gently underpinned by muted strings. The concerto came to a powerful climax just before the interval.
The second half consisted entirely of the Gaelic Symphony (written by an American). It is a long work, but the orchestra and conductor maintained the energy right to the end, and it was pleasant to hear something different from the usual Brahms workhorses, even though parts are similar in style. So many themes appear, it can be hard to detect the structure – even in the last movement, there was no obvious climax. The orchestra's dynamic contrast could have been greater, too (softer pianos, louder fortes), but many passages were very effective: tremolo swells in the strings conjuring up the sea, well-articulated woodwind interludes, powerful passion from the brass. The conductor, Rupert Bond evidently loves this piece and knows it backwards, resulting in a polished performance.
I would certainly come to hear Folkestone Symphony play Amy Beach again, in preference to a London orchestra churning out yet more of the best known late Romantics. The orchestra sounded as good as most professional orchestras anyway, and it was a most enjoyable concert. Just a shame that most of the audience appeared double the age of the players: some way needs to be found to expose youngsters to this stuff too!
Gwyn LLoyd