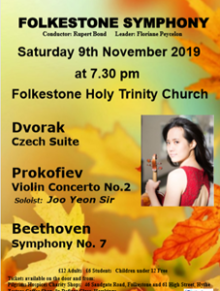 Dvorak - Czech Suite
Prokofiev - Violin Concerto No. 2 (Soloist - Joo Yeon Sir)
Beethoven - Symphony No. 7
Image
A solo violin floats one of the most beautiful melodies of the 20th century into the vaulted heights of the Holy Trinity Church and a spell is cast by a young magician. Thirty or so minutes later everyone is saying, "we must get her back". That was the impact of young Korean-born violinist Joo Yeon Sir's performance of Prokofiev's 1935 Violin Concerto with the Folkestone Symphony Orchestra under conductor Rupert Bond and leader Floriane Peycelon. Joo Yeon had already been identified in 2017 as a "star of the future" by the Guardian following the release of her debut CD, and she unquestionably lived up to this on Saturday night.
The audience that filled the Church was won over by the power and passion of her playing in a piece that challenges every violinist, but also poses great challenges for any orchestra. It's a tribute to the dedication of this mixed group that spans ages from 17 to, well, discretion must prevail, from across south east Kent, that they responded so well to her example and Rupert Bond's animated conducting. Prokofiev is never easy but always rewards with his melodic genius and rhythmic complexity. This was highlighted in the central slow movement where Joo Yeon spun webs of soulful melody around the orchestral accompaniment. The contrast with the last movement which highlighted Prokofiev's other side was highly characterful and reminded us that he was perhaps the 20th century's greatest ballet composer as well.
With an eye for upcoming talent and the dedication of its collection of music teachers, amateur performers and a sprinkling of semi-professionals, the Folkestone Symphony has been very much part of the local music landscape since 1961. Their handful of concerts each year makes no concessions to the non-professional character of the orchestra, and the musicians push themselves to the limit, and beyond, to deliver performances full of energy and vitality. This was demonstrated in Beethoven's most rhythmic and dynamic symphony, the Seventh where the odd imperfection was swept aside in the headlong rush to the triumphant conclusion.
Very few towns can boast their own orchestra, and of those that can, Folkestone is almost certainly the smallest, and yet has every right to claim to be a town full of music.
Peter Cobrin